INTERESTING THINGS ABOUT TORREVIEJA
5 Oct 2018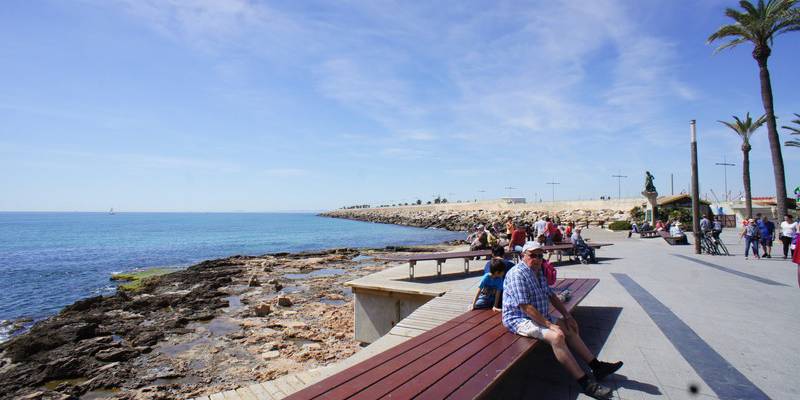 The Costa Blanca resort of Torrevieja is a dream if you like sun, sea and lots of sand. Five of Torrevieja's beaches were awarded the Blue Flag in 2016, rangingfromcuteurbanbaysbuzzingwith activity in the summer, to wide open beaches where you can findseclusioneven in July. The resort is pinned to the coast by two great salt lagoons that are protected by natural parks.
There's also a great infrastructure at Torrevieja so you won't be scratching your head for things to do and children will never be left out: There are waterparks and water sports centres, all kinds of restaurants and bars, as well as a long list of cities close by to discover on day trips.
LA MATA
If your idea of the perfect beach is a wide and spacious belt of pale sand washed by rolling surf then La Mata is the one for you.
It's a Blue Flag beach hugged by a boardwalk that runs for its entire 2.3 kilometres and has some 14 beach bars.
As you make your way north you'll find that the beach gets even quieter, and there's a 14th-century watchtower at the northern limit, which served as part of a series of defences when coastal Spain was vulnerable to pirate attacks.
LAS SALINAS DE TORREVIEJA
A large swathe of Torrevieja's hinterland is a natural park with two vast salt lagoons.
To the south is the Laguna de Torrevieja, which has a pink tint and continues to be mined for its salt.
Many people come to float in these waters on the resort side of the lagoon; just don't forget to bring some water to wash the salt off! Further up is Laguna de la Mata, behind La Mata Beach, and this is where you can pop into the interpretation centre surrounded by vineyards.
You'll get the lowdown on how this landscape has been shaped by humans and the varieties of wading birds that make a habitat here.
PLAYA DEL CURA
This bay right on the resort's seafront has more of an urban feel compared to La Mata, and is full of life in the summer.
It's a gentle curve of fine sand lapped by low waves as the beach is shielded from the open sea by two long breakwaters. These gentler waves make El Cura a bit safer for toddlers and smaller children to paddle about in. To the rear is the renovated Avenida de los Marineros, a grand esplanade planted with palm trees and offering restaurants and ice cream shops.
AQUAPARK
For people coming to Torrevieja with smaller children and toddlers, this compact water park is a fun way to pass a hot afternoon. It's not particularly large, with only four slides, but is very well-staffed, with lifeguards covering every pool and ride. Parents will be able to pick a sun lounger in the shade and keep a close eye on their children without having to follow them around the park. There's also a pool area for grown-ups to take a dip and a restaurant serving fast food, though many families bring a picnic.
DIQUE DE LEVANTE
For the ultimate view of Torrevieja from the sea you can walk along one of the long breakwaters that pushed a long way out into the Mediterranean: So far in fact that a round trip from the waterside in the port to the beacon at the end of the Dique de Levante is about two miles.
There wasn't always a path here, and for many years the breakwater was known for its seedy atmosphere.
This all changed in the year 2000 when the walkway was unveiled, and the path became a popular way to get some exercise at any time of year.
Bring your camera and you'll have some fantastic shots of the resort and its port from a mile out to sea
DELFIN SUBMARINE
For just €2 you can board two heritage vessels in Torrevieja's harbour.
The most exciting of the two is a French-built Daphné class submarine, built in 1973 and decommissioned in 2003 when it became the Spanish navy's first ever museum vessel.
This submarine was able to stay submerged for 30 days at a time and could sail for 4,500 miles without needing to refuel.
You'll find out how 56 people managed to live down here and take a look at the communications equipment and torpedo bays.
In the other berth is the Albatross III patrol boat, in service for three decades for the coastguard and Spanish customs.
IMMACULADA CHURCH
Torrevieja's name in Spanish translates to "Old Tower", and this refers to one of the late-medieval watchtowers that are set at intervals along the coast and were here long before there was a town.
The "old tower" is gone, but the stones were used in the late-18th century to build this neoclassical church.
The best time to drop by is a well away from the tourist season, at Christmas when there's a large and very detailed Belen (nativity scene) on display in the square in front.
https://www.thecrazytourist.com/15-best-things-torrevieja-spain/9/