Acquire a property for sale in Orihuela Costa and enjoy this winter of sun and golf
21 Dec 2018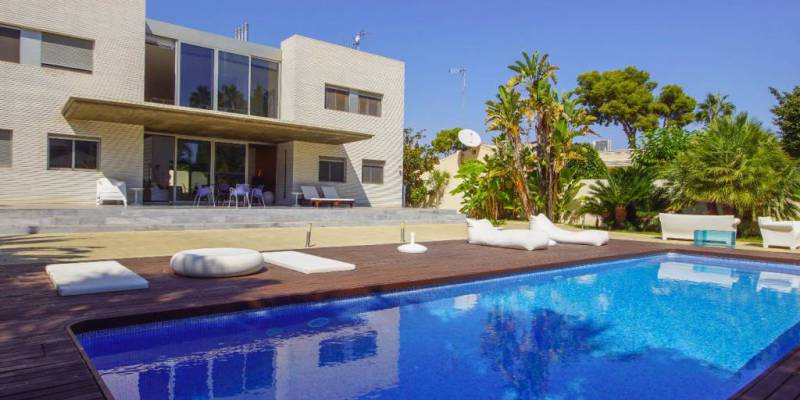 If you are passionate about golf, but do not want to give up enjoying the beach, then we recommend you buy a property for sale in Orihuela Costa.
When we talk about Orihuela Costa we are referring to an extension of coastline of more than sixteen kilometers that is located in the Costa Blanca South of Spain.
In this vast area of coastline we find a variety of magical and wonderful places.
We can discover charming shallow turquoise blue sea coves and ideal for scuba diving or snorkeling.
We also find a wide variety of beaches: some extensive and with golden and soft sands, others rock or boulders, others with wild palm trees, but all agree that they have the necessary services to make your day at the beach comfortable and pleasant.
But, if in addition to the beach you love playing golf, Orihuela Costa is the ideal place to live.
Due to its magnificent climate, where its winters are temperate and sunny, in Orihuela Costa important golf courses have been built, often forming part of exclusive urbanizations where you can live in a relaxed way.

If you are looking for a property for sale in Orihuela Costa, we offer you a wide range to choose from
If you are looking for a property for sale in Orihuela Costa, contact us and we will offer a wide range of homes for you to choose according to your tastes and needs.
Imagine yourself in the solarium of your luxurious villa, savoring a delicious juice of freshly squeezed oranges while you delight yourself with incredible views over the sea.
Maybe you prefer a spacious apartment on the beachfront, with direct access to the sand. Have you ever thought about how you would feel if from the terrace of your house you heard the soft murmur of the waves of the sea?
But if your hobby is golf, you may prefer to live in a townhouse belonging to an exclusive residential environment, with a select neighborhood and beautiful views of the golf course or the mountain.
Another very interesting option is the acquisition of a bungalow with community development, where you can socialize with your neighbors while playing a game of paddle tennis, enjoy the lush garden, or relax in the large solarium surrounding the huge pool.
Trust our professionalism to acquire a property for sale in Orihuela Costa
If you want to acquire a property for sale in Orihuela Costa, trust our long experience in the real estate sector.
We put our work and professionalism at your service so that the purchase of a home in Spain is comfortable and fast.
Do not hesitate to ask us about all the questions that you may have regarding the purchase of a home.
We have an expert team of multilingual agents who will attend you kindly.
We will advise you on such diverse topics as the application of the NIE or residence permit, opening a bank account, direct debits and taxes, registration of supplies, currency exchange, ...
Fill out the contact form that appears on the web or send us an email to info@medsearesales.com and, as soon as possible, we will contact you.
If you prefer to visit us personally, we are in Punta Marina Shopping Center, Local 10 - Ctra. N-332 Alicante - Cartagena, Km. 52. - 03185 Torrevieja (Alicante) Spain.
Telephone: (+34) 966 708 774.