In 2018 the villas for sale Orihuela Costa were the most demanded by the European market
18 Jan 2019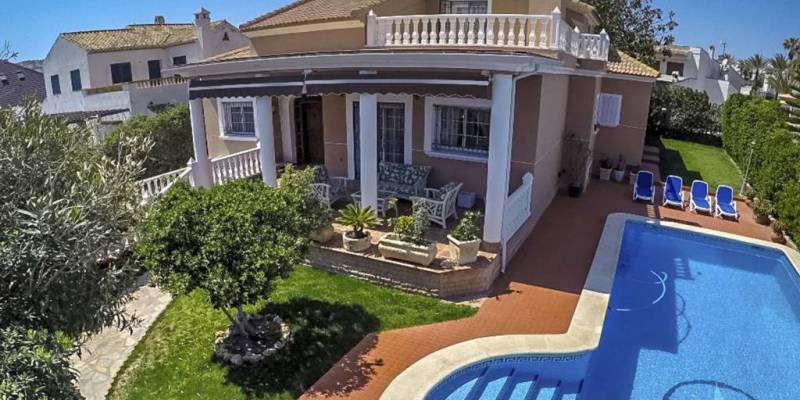 In the past year there was a significant volume of real estate transactions. The villas for sale in Orihuela Costa were the most demanded in the European market.
Here are the main reasons:
The climate in Orihuela Costa is exceptional. Average annual temperatures of 20º are enjoyed and the precipitation index is practically nil. This allows the accomplishment of innumerable outdoor activities.
It has fantastic beaches of fine golden sand and beautiful turquoise blue sea coves, ideal to relax in the company of the family or practice your favorite water sports.
It has a magnificent road network. Through the AP-7 motorway and the N-332 national road, you can comfortably reach the main cities in the area or the international airports of Murcia or Alicante.
In Orihuela Costa there are famous 18-hole Golf Clubs of different degrees of difficulty, so you can choose according to your level.
Along the coast we find a large number of marinas where you can hire the mooring of your yacht, rent a pleasure boat or practice an extensive range of water sports.

Enjoy the sun, the sea and the golf in our magnificent villas for sale Orihuela Costa
Due to the wide range of possibilities that Orihuela Costa offers us, having a home here is the best option to enjoy a well deserved holiday at any time of the year. That is why the level of demand for villas for sale in Orihuela Costa has increased considerably.
We offer you an extensive range of villas so you can choose according to your tastes and needs.
We offer luxurious villas with stunning views over a sea cove, where you can live in a beautiful residential environment surrounded by a select neighborhood.
We also have villas in exclusive urbanizations with golf course, so you do not have to make long trips when you want to practice your favorite sport.
Our chalets are of modern style or traditional design but they all have a private plot with a nice pool.
Can you imagine this winter tasting an exquisite barbecue in the garden of your chalet in the company of your friends while you enjoy the joy that gives you a radiant and bright sun?
Do not hesitate to ask about our offer of villas for sale Orihuela Costa
If you are thinking of looking for villas for sale Orihuela Costa, do not hesitate to ask us. We have a wide range of homes to offer.
Contact us and you will be pleasantly surprised with our family and close, but highly professional at the same time.
We have a very extensive customer service hours.
We have a competent team of multilingual real estate agents that will help you find the home of your dreams.
We are sure that in our portfolio of villas for sale Orihuela Costa you will find the property you are looking for.
To contact us you can fill out the form that appears on the web or send us an email to info@medsearesales.com. You can also call us at: 0034 966 708 774 | Leticia: 0034 669 448 193 | Ema: 0034 663 046 119.
If you want to visit us in our offices to ask about our villas for sale Orihuela Costa, we will be happy to receive you in:
Punta Marina Shopping Center, Local 10 - Ctra. N-332 Alicante-Cartagena, Km. 52 - 03185 Torrevieja (Alicante) Spain.